Slurry pipeline Floats
Slurry pipeline – a pipeline, used to transport slurry (a mixture of water and soil or rock, obtained by excavating and mining hydraulically) with hydraulic dredger equipment to the point of discharge.
Floating slurry pipeline. Its purpose is to connect the working dredge to the shore slurry pipeline. The slurry pipeline allows operating maneuvers; it is the supporting structure for securing the supply and control cables, moving the staff to the dredge ship or ashore. The installation of floating slurry pipelines is made on special floats,the number of which depends on the length of the pipeline .
Our company, a pioneer in Ukraine,has developed and put into production a plastic float for the slurry pipeline for the first time.
Descripiton
We produce polyethylene floats to maintain the pipe slurry pipeline on water. It is also possible to use our floats as floating bearing elements for any purpose. Operating temperature is from -40 ° C to + 60 ° C, UV resistant.
Along the floating slurry pipeline a gangway for the staff and high voltage cables for charging an electric dredger are usually laid. Floats tightened by straps, belts or polypropylene strips.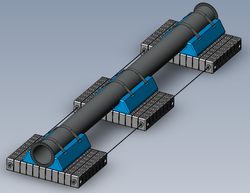 Slurry pipeline on floating dock module
The slurry pipeline is made of polyethylene by rotational molding,      the operating temperature is from -40 ° C to + 60 ° C. The slurry pipeline is hollow inside, but foam filling is possible at a client's request. Easy-to-use: easy, reliable, durable, and affordable (compared to its counterparts).
Float accepts range of diameters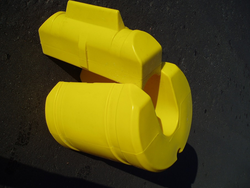 The float is designed in a way, that it accepts pipes of different diameters.
The pipe is placed into big part of float and than tightened by small part of float.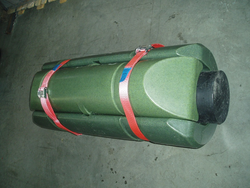 Therefore our range of floats for slurry pipeline can accept any tube with diameters 140-650 mm.
The whole construcrion is fixed with the belt.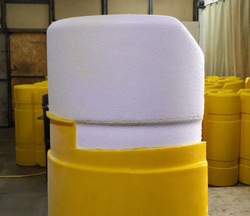 Our foam filling technology:
EPS (Expanded Polystyrene) 25
Module maintains it`s shape and is resistant to mechanical deformations
Compared to air-filled modules, our module retains floatation properties in case of hole
* The slurry pipeline is hollow inside, but foam filling is possible at a client's request.
Order custom float (i.e. floats with inner diameters >650mm)
We are full-cycle rotomolding producers. This means that our supply chain has stages such as (computer 3d model design, development of prototype, mass production and quality control).
Today we are interested in extending our range of floats. We welcome our customers to ask for custom products and promise to offer reasonable price-quality-time ratios.
It is possible to order the design and manufacture of floats for all pipeline diametres based on both sketches or drawings of the client, and without them.