Our technology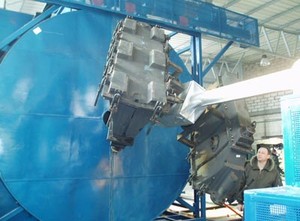 Rotational molding - the technology of production of light and seamless polymer products of large sizes. Products manufactured by this technology are particularly strong, as the material is not exposed to the pressure throught the production and as a result it posesses no internal strength.
The rotomolding process
The first stage
The mold is attached to one of the handles (the so-called "arm") of the rotomolding machine. The certain amount of polymeric material is loading into it. It`s possible to produce many products simultaniously, because rotomolding machine has few arms.
The second stage
After that the mould is closed tightly it is moved into the heating chamber. There it turns into two mutually planes at a rate of 4 to 20 rev / min. Under the influence of temperature in the oven polyethylene melts and covers the inner surface of the mold evenly. Duration: 30-60 min.
The third stage
The mould moves to the cooling sector. During the third stage the mould continues to rotate, thereby achieving the equal walls' thickness. Duration: 15-30 min.
Finally the product is extracted from the mould and the process repeats.
During the process the speed and oven temperature are constantly monitored by the operator. We use the machine with independent "arms", which allows the make shaping of each product (or category) on its own program.
Why rotomolding?
The design of all products made by this technology, meet the highest European standards and are manufactured from high strength, frost, light-food polyethylene. The ambient temperature of the products made by rotational molding from -40оС to +60оС. Given that the molding is done without the use of pressure, all products are obtained seamless and very durable. In addition, the product easy to use, both in operation and during transport. They are easy to clean, including, and aggressive cleaning agents.
The advantages of rotational molding:
getting products with no internal stresses;
the ability of quick producing and repairing of the moulds;
Cost efficient production even for small shipmentх
relatively low-cost price for moulds;
the possibility of producing large-sized products;
the possibility to produce solid products of complex shape;
the possibility to put inside the metal parts and graphics;
the possibility of producing the same product with different wall thickness without having to modify the mould;
the possibility of simultaneous production of different products;
possibility of making any number of products in the presence of the appropriate molds.
The disadvantages of rotational molding:
relatively long period of receipt of products;
strict adherence to the process;
difficulties in forming the ribs of the product;
relatively high cost of raw materials;
restrictions on the choice of polymeric materials.
We invite you to discuss the possibility of replacing some of the parts used to build Your production systemsto the details created by rotational molding!