Houseboat
We have customers in most European countries, especially we have frequent deliveries to Poland, Germany, Netherlands, UK, Sweden, Denmark, Latvia.
Our foam filling technology: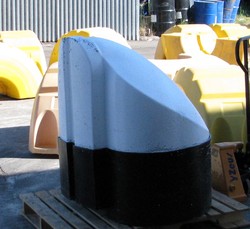 EPS (Expanded Polystyrene) 25
Module maintains it`s shape and is resistant to mechanical deformations
Compared to air-filled modules, our module retains floatation properties in case of hole
Floatation modules can stand temperatures in range from -60°C to +60°C and are also resistant to sudden temperature fluctuations. There is no need to deassemble or remove construction in winter period.
Houseboat platforms
We supply custom size houseboat platforms. Each houseboat platform consists of standard plastic floats and steel platform.
Floats for light/narrow houseboats
Floats for standard houseboats
Speed series
We are happy to introduce 2 new families of floats: W900, W1200S features:
Higher speed of driving
Perfect driving stability/improved steering
Same simple mounting method
Same high quality of EPS and PE
Extra streamline front
Kiel
Redans
Steel platform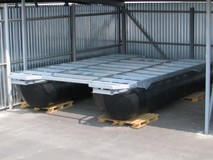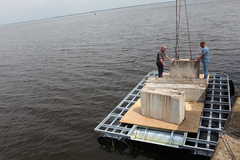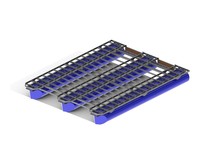 Features:
produced in 2 pc. (left and right) in order to fit to regular transport
parts are firstly welded, than galvanised and in the end assembled with bolts at customer site. In this way, galvanization cover is never corrupted.
All fastners are electro galvanised
have 1 engine holder, suitable for engine with maximum 75HP.
Connection of W800/900/1200/1200S float to Steel platform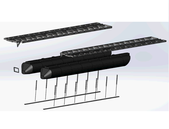 Platforms for W 900/W1200S floats do not have steel beam underwater. Instead there are metal plates
We can also manufacture custom platform based on dimensions, max load and other requirements.
Heavy floating houses platforms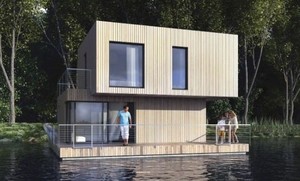 Heavy floating houses can be built based on our Pontoon float 1000L. It ensures great stability of heavy floating house and needs simpler steel platform, compared to 1200 float.
Floats
Floating house platform
Advantages compared to concrete floating platform:
Cheaper product price
Cheaper delivery price (due to transporting disassembled)
Custom size
Uneven distribution of load can be corrected by locating more PE floats under heavy areas.
Custom floating platform
Our performs very good in floating cafes, floating terraсes and others. See more in references.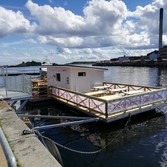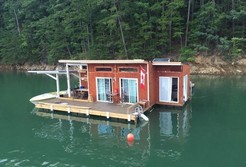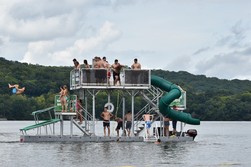 Equip Houseboat with accessories
Some of our products can be very helpful for the houseboat:
| Empty float for water storage | Slide to water |
| --- | --- |
All our floats can be supplied empty with reinforced walls for purposes of water storage. If you need to connect a tread, you can screw that in horizontal plane on top of float.
W1200/W1200S floats with boxes
Below are standard floats with inserted rotationally molded boxes. Typical applications-storage of: black/grey water, ballast, machinery, diesel (NOT bensin).
W900/W800 floats with boxes
We also produce floats with custom boxes from PE sheets, but they cost double price.
See also