Animal feeders
Our company produces animal feeders and other plastic parts for agriculture. We usually produce these spares on a company's request to replace metal ones.
The advantages of plastic animal feeders over metal ones:
Cost-saving production
Notably less weight
Resistance to various types of corrosion
Vibration resistance
No need in additional painting
Feel free to visit Category "The development and release of new products with us" and learn more about the process of the production of plastic spares as substitutes to metal ones!
Hog feeders KDP-5/2
Feeders KDP-5/2 are used for piglets at the rearing stage. This is a bilateral bunker-like feeder, designed for 10 feeding places.
Description
Feeder KDP-5/2 is designed for dry granular or bulk feed intended for animals weighing from 8 to 45kg. The bulk of a feeder is made of one piece of high-strength environmentally friendly polyethylene 7mm thick, resistant to corrosion and easy to clean and disinfect. All metal parts are made of food processing stainless steel. Such a choice is due to increased performance pressures on certain components and product mechanisms. Fasteners and borders have no sharp edges, radius-like corners are applied everywhere instead, making the shape safe for animals. High mechanical strength of the material prevents any deformation and operating damage of the feeder when in use. The characteristic features of the material and the feeder design allows the user to virtually eliminate any food hanging on the bunker and batcher surfaces, minimize losses during feeding and optimize the dosing of the feed mixture.
Parameters
Feeder size (length / width / height) - 990 mm/ 600 mm/ 750mm
Weight - 29kg.
Bunker capacity - 160kg. (230l.)
Trough height - 120 mm
Feeding space size (depth, width) – 160mm х 185mm
The number of livestock - up to 70 capita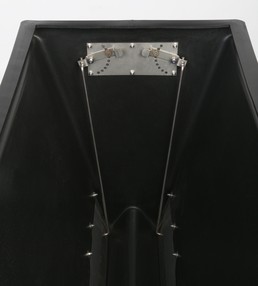 Use and care
Food supply into the feeder is carried out by hand or with the aid a distributor. The trough is equipped with a fixed regulator of the amount of feed supplied (9 positions). This control method provides a quick and easy installation of feed depending on palatability dosage that has a positive effect on both the feed consumption and optimization of the dynamics of gain. Feeding space easily enables up to five animals of the above-specified weight class to approach from each side. The characteristic features of feeders allow its use on large hog-breeding farms and any other forms of ownership including private households. The maintaining, cleaning and disinfecting of the facility is carried out according to operational needs or negotiated according to on-farm standards. There are no special requirements for a cleaning method, as well as disinfectant solutions and mechanisms. P>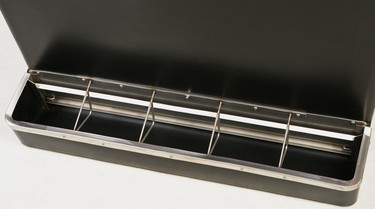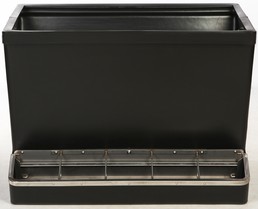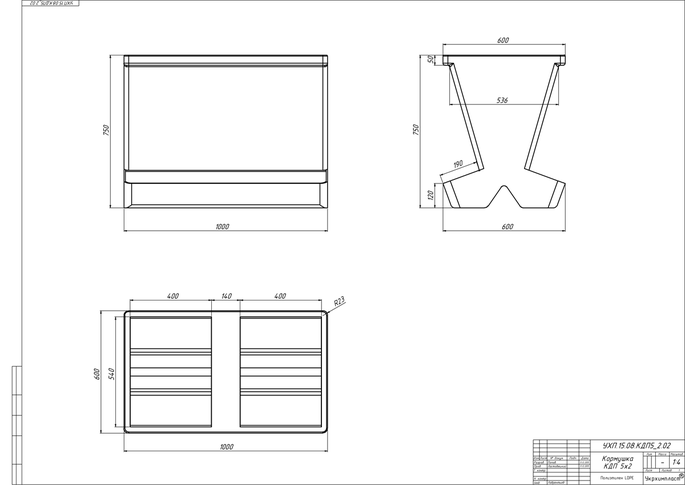 To purchase this product, feel free to contact our expert:
Tel.: +38 (098) 150-85-13,
E-mail: kormdp@ukrhimplast.com
It is also possible to design and manufacture any similar parts for agricultural machinery based on sketches or drawings of the customer as well as without them.