Pipeline float ID 150-160
Pipeline float ID 150-160
Pipeline float ID 150-160: consists of big and small part. When both parts are assembled, float has length of 600 mm, and ID of 160 mm. Overall volume of both parts is 90 (60) l, where we recommend to load not more than 70% of volume.
Both parts are fixed with belt and can be fixed tightly around the pipeline. Bigger part of pipeline float has a recess, where electrical cable can be laid.
Float is produced from virgin PE and as a standard, bigger part is filled with EPS.
Characteristics
Length: 60 cm
Diameter inner: 16 cm
D outside: 50 cm
Floatage: 90 (60) l
Fixture: Belt
Weight: 10 kg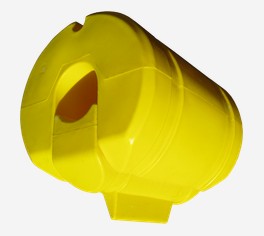 Material
HIGH QUALITY POLYETHYLENE
high strength
frost-resistant (from -40°C to +60°C)
food
UV resistant