Peat dry closet and cabin
Peat dry closet and toilet cabin
Product description
We produce peat dry closet and toilet cabin. Peat dry closet is perfect for suburban areas and other places where there is no sewage system. It can be placed indoors or in toilet cabin.
Effectively removes odors through evaporation of liquid only through the chimney.
Recycles toilet waste into environmentally friendly compost, ready to fertilize the plants.
Pure peat is used as filler. No chemically active liquids, hazardous to human health.
Working principle
Advanced design of the peat toilet as it simplifies the process of exploitation: the toilet is equipped with a mechanism of adding the peat mixture in the holding tank, and the effective elimination of unpleasant odors is provided by the exhaust pipe. The peat mixture used in toilets, has a high absorption capacity. 1 kg of a mixture of peat is absorbed by 10 liters of liquid fraction. As a result, the surface area of the evaporation of the liquid fraction is greatly increased. And 90% of the fluid is removed with chimney pipe. Peat toilet installed in the room with the possibility of deducing the ventilation pipe. Vent pipe is required to remove odors, and evaporation of excess liquid from the toilet, and is intended to supply oxygen to the compost mass.
Operation
Initially, the bottom of the receiving tank is filled with peat at 1-2 cm, and the peat is poured into the upper tank dress (volume 7 liters). After using the toilet dispenser knob on the upper tank several times from side to side to evenly covered the peat content of the receiving tank toilet. Emptying the toilets as it is filling is providing in the following way: the upper part of the design is removed and the contents shall be submitted to the garden or the compost pit. A year later, you will get rich manure compost mass.
Components of peat toilet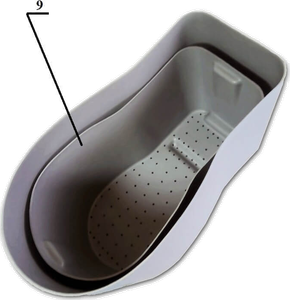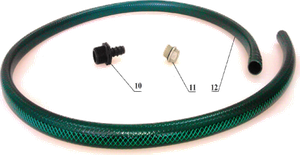 Corrugated tube
Toilet seat
Handle dispenser
Toilet tank lid
Threaded stiletto
Rubber reduction 50/40
Tank for peat
Toilet body
Perforated tank
Adapter ½"
Cap ½"
Hose ½"
Peat toilet body is made from polyethylene, is intended for contact with food product and drinking, or wash water, that provides a lack of bad smell of the product. Material of item is resistant to ultraviolet impact, not changing physical and chemical characteristics in range of temperature from-40°C to +60°С.
This model of peat toilet is equipped with perforated tank (volume is 38 liters), it additionally ensures separating filtered liquid fraction, which upgrades vaporization and blocking souring composting mass. If toilet is used frequently, you can increase its efficiency by directing outflow of filtered liquid fraction to drainage pits.
Size, length, width and height(of the seat) in assembled appearance - 67cm×38cm×64(45)cm;. In disassembled appearance - 67cm×38cm×43cm. The weight of the toilet (bundled with peat) is - 11kg.
Accessories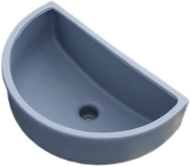 Polyethylene sink
Hanging sink. It would be well suited to hanging or put over apparatus in bathrooms. Included in the package of Mobile toilet cabin. This item is produced from the highly durable temperature resistant (from -40°C to +60°С) polyethylene. In addition, It has output to the drainage tube 50mm.
Toilet cabin
Also we produce:
Toilet and cabins are produced from high quality overseas polyethylene. It is European production, stable for sudden environmental temperature differences from -40С to +60С. Special additives to polyethylene make cabins stable from impact of solar ultraviolet rays.
See also