Toilet cabin for cesspools
Toilet cabin for cesspools
We produce toilet cabins for cesspools. Their construction does not include a storage tank, but in the polyethylene pallet there is a special hole.
To take advantage of these toilet cabins we recommend to use our pools which are based on cesspool tanks; yet, other artificial or natural manure tanks are also possible.
Toilet cabins do not require installing an illumination system. Due to the white roof, which satisfies a decent rate of translucency, there is enough light in daytime, meantime in the evening and at night it is enough to place a cabin not far from the street lights.
Toilet cabins are produced from high-strength imported polyethylene, which is resistant to sudden changes in environmental temperatures from -40 °C to + 60 °C. Special additives into polyethylene make the cabin more resistant to a direct impact of UV radiation.
Toilet cabins are easy to transport; in addition, they do not weigh much, both assembled and disassembled. Toilets are packed with a plastic pallet, which greatly increases the product's service life.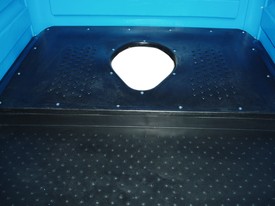 Advantages of our cabins:
Cabin size: 1200 x 1200 x 2450 mm
Cabins have moderate weight (80 kg)
Easy to transport, both assembled and disassembled.
Package:
sink
toilet paper holder
hook for clothes and bags
lock with a key and inner damper
washbasin (optional)